What is Rhythm Time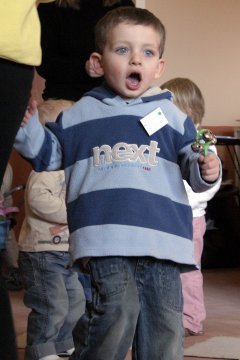 Rhythm Time's aim is to offer quality music classes to babies and children under five throughout the UK. It was started by a music teacher in Solihull in 1995. Since then it has grown steadily. We are still expanding and are looking for people all over the UK to run classes.
Rhythm Time is much more than just a sing-a-long. It is a well thought out musical experience which uses lots of exciting songs and activities to help a child's development. Classes are usually run in Church Halls or Community Centres and now the courses, which dovetail with the National Curriculum, are taught in many nurseries and even reception classes in schools.
Rhythm Time is based on the following principles:
Age Appropriate Courses
It is very important to offer material which is appropriate to the age of the children in the class since they are all at different stages developmentally. For instance, a 3 year old needs more challenging material than a baby. Therefore, for your child to get the most out of their pre-school music experience, Rhythm Time offers three age appropriate courses.
Courses Created By An Experienced Music Teacher
All the courses have been created by Kathy Doolan (DRSAM, LRAM), who trained at the Royal Scottish Academy of Music and Drama in Glasgow. Kathy was head of a music department in a Scottish school and she has a real passion and belief in the importance of music in a child's formative years.
Unaccompanied Singing
It is very important for young babies and children to hear natural, unaccompanied voices singing together since this will encourage them to start vocalising and to sing in tune. Singing along only to CDs means that a child cannot hear their own voice or their parent's voice clearly. In Rhythm Time the class leader sings most of the songs unaccompanied but the songs are so catchy and easy that everyone is soon joining in.
Class Assistant
Rhythm Time's aim is to give the best musical experience to both parent and child. To do this the class leader also has an assistant to help during the sessions. The assistant will ensure that everything runs smoothly and efficiently, which means the leader is free to concentrate on the children in the class.