Rhythm Time Can Be Built Round Family Life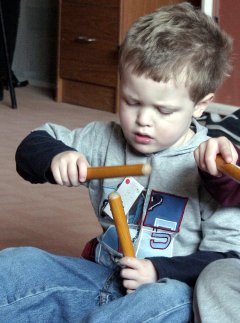 The Chester Franchise of Rhythm Time has been up and running now since July 2001. I first became interested in Rhythm Time as a mother looking for a music class with a difference, not just the usual disjointed sing-a-long. Rhythm Time was it; and both my boys are keen Rhythm Timees! Unfortunately the nearest Rhythm Time classes available at that time were based in Nantwich, and despite my enthusiasm, travelling 40 + minutes every week was beginning to take its toll. As a result, I was very keen for Rhythm Time to open up in Chester. I knew there was a market for Rhythm Time, since despite the plethora of pre-school music sessions in Chester, there was nothing to match it.
As a mother I enjoyed the classes immensely and took great pleasure from seeing my children learning new skills whilst having lots of fun. The idea that Rhythm Time could enhance and guide their development in such a way so as to encourage their enjoyment of music and future ability to play an instrument was a very real attraction for me. When the opportunity to purchase the Chester Franchise arose, it was my own experience of Rhythm Time that confirmed my instinctive reaction to go ahead. I knew that Rhythm Time was a quality product and that it could sell itself. This issue was particularly important for me because I knew I could do the classes but I am not a sales person and would not be happy trying to sell something I didn't absolutely believe in.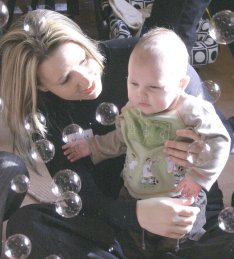 So, despite having two young children, I jumped in with both feet and after various training sessions I was set up and ready to go in September 2001. I have found the resources available to learn the various Rhythm Time courses very user-friendly. Everything fits in nicely with the children and family life. The Teacher's CD's mean you can be learning next term's Rhythm Time classes whilst doing other things e.g. washing up, having breakfast etc. In fact, just by listening to the CD's you end up training the whole family! Towards the beginning of the new term, when you read through the comprehensive and well thought out lesson plans you will find that everything seems familiar. With a little more practice you are ready for your training sessions which further reinforce what you have already learnt. The training sessions with Kathy Doolan (Rhythm Time's Franchisor), and her colleagues are absolutely invaluable (they are also great fun!). They are full of tips for every eventuality and every situation. Kathy's standards are very high, which is naturally very good for the reputation of Rhythm Time (and good for your business), but she gives you all the help you will need to reach them.
Kathy is an exceptionally clever (for having developed Rhythm Time) and very very organised lady. Her enthusiasm and support throughout have been unfaltering and she has always been at the end of the phone (sometimes for very long periods of time indeed) to talk about anything and everything to do with the franchise. All materials, instruments and equipment provided are of excellent quality and are always delivered on time.
The Rhythm Time CD's have proved very popular with the children and are played constantly at home. There is no doubt that they are an extremely important learning tool, especially at the Elementary stage and this has proved to be an asset in promoting Rhythm Time and the importance of what is covered in the classes.
The Chester Franchise of Rhythm Time is growing all the time and my mothers are very enthusiastic. I frequently get requests to start up new classes in different areas. I enjoy delivering the lessons and get a lot of satisfaction from seeing how much my children and their parents get out of the classes. I would have absolutely no hesitation in recommending a Rhythm Time Franchise to anyone with the appropriate aptitude for music, dealing with children and organisational skills. It is a very friendly and rewarding business to be in.